Dining Room Be.zen
Breakfast starts the day.
Dining Room Be.zen offers a delicious breakfast that is good for the heart and soul, in a warming space, to create the perfect start to your new day
HOTEL THE FLAG Shinsaibashi has been born in the middle of Shinsaibashi, Osaka, a city which welcomes people from all over the world
In the middle of this busy city, Be.zen offers it's creative dishes made to be enjoyed with all 5 of the human senses
Mixing Japanese flavors with those of America and Italy, Be.zen's dishes are the perfect start to healty and happy travels

Our carefully chosen tableware
The color and shapes of tableware can help to express the true form of the meal or show new sides of the same meal.
As we wish for our guests to be able to enjoy every aspect of their breakfast, we have carefully chosen the best tableware from all through Japan to show the true Be.zen character.
On the buffet table lays a pleasantly scented plate made of wood from Totsukawa village in Nara prefecture, pieces delicately crafted by masters of pottery, traditional ironware from Iwate prefecture, Staub, stainless plates and more to show each face of our delicious dishes.
Message from Chef Hayashida
As a chef,

Being a chef is to express deliciousness through your work.
We use our various skills to line up vegetables and fruits that have been grown with love, meat and fish which will share their energy with us, on our beautiful plateware.
The meal becomes a single piece to enjoy the colours, scents, flavors.
However, the piece does not remain; it is a fleeting moment.
It is a chef's job to create a meal, a masterpiece, that will remain in the guest's hearts as a memory of happiness, of deliciousness.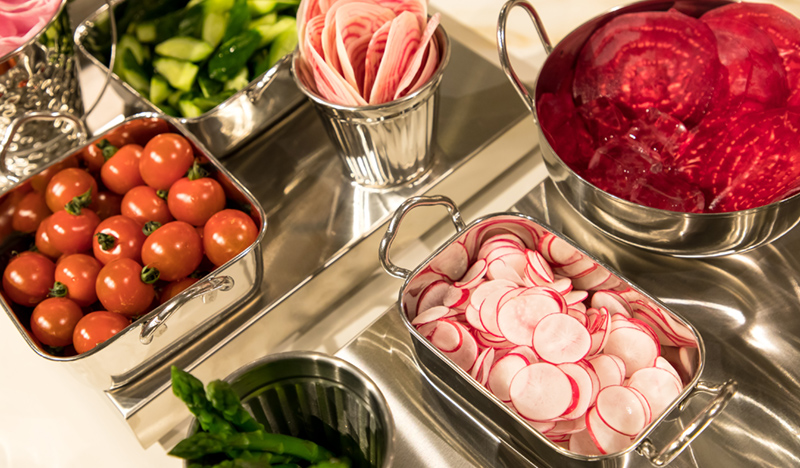 Our thoughts on ingredients,

Ingredients give us life as well as are beings with their own life.
A careful balance in the ingredient's surroundings, weather, water, air is necessary to create something delicious.
We must not forget the love the farmer has poured into his work.
All ingredients have their own life, and those made with love will grow to be delicious. These are the ingredients we use at Be.zen.
Our vegetables come mostly from the Kinki region and are raised with as few chemicals as possible. Our meat and fish come from Kyoto and Wakayama and are raised healthily and happily.
We hope to be able to build a bridge between our farmers and our guests.

Dining Room Be.zen: Information
Opening hours: 7:00-10:00

We may ask guests to wait during busy periods.

For guests whose plans include breakfast:

Please remember to bring the breakfast tickets you recieved at check-in.

For guests whose plans do not include breakfast:

Breakfast can be purchased at the front desk at any time. We ask for 2,000JPY per adult, 1,000JPY for children between the ages of 7-12.
★Children 6 years and younger are free of charge.

The Perfect Breakfast
A hotel is both a starting point and a departing point.
We offer our hand-made dishes made with love to our guests as a thank you for choosing us as one of your starting points.